How can I WIN my Daily Battles?
We all face different battles in our life.  From
Reading Scriptures and praying every day.
Facebook addictions
Pornography Temptation
Losing our temper.
Fill in the Blank ____________________
 To win against these battles what do we need?
Eternal Warrior classes teach us exactly how to adapt to satan's new tactics.
*Increased Spiritual/Biochemical/Emotional Discernment
*Endurance to make sure our Heart/Mind/Spirits are strong enough to withstand temptation.
*Skills to be prepared to respond quickly and powerfully.
Eternal Warrior Classes can Help YOU!
You can learn more about what to expect in class by watching this Enlistment Video

 Register for Class
Online Classes – Youth and Adults
For those not able to attend live classes in Orange County, you can be an Eternal Warrior taking my Online Eternal Warrior Class.
Weekly video classes (similar to video above) and weekly check in/questions/sharing.
Watch and check in any time of the day.
An Eternal Warrior Journal will be mailed to you from me.  (specify boy or girl journal, the e-mail you prefer to use and your address in paypal information)
Unlimited E-mail support, Facebook Page for group interaction.
3 months of access to complete the 8 week course, allowing flexibility for unforeseen circumstances.
Cost – $125 – Early Bird/Conference pricing $75
Register for Online Classes Here!
Early Bird/Conference Pricing $75
[s2Member-PayPal-Button level="3″ ccaps="" desc="Online Eternal Warrior Course through www.sheridanripley.com" ps="paypal" lc="" cc="USD" dg="0″ ns="1″ custom="sheridanripley.com" ta="0″ tp="0″ tt="D" ra="75.00″ rp="3″ rt="M" rr="0″ rrt="" rra="1″ image="default" output="button" /]
Summer Classes – Online
8 great classes
Support from other students and me via group calls
Video classes available as make ups if you miss a week.
Next Classes Starting Thursday July 7th
All classes and calls are recorded and available online!
Questions?  
Contact Me and I will answer them!
Testimonials
Tracine –
We've all seen that object lesson with the walnuts (or other large objects) and the rice (or other small objects). If we put the walnuts first… We can fit all the rice. I've always believed this principle, but until the [Eternal Warriors] class, I never had anything beyond, "yea I believe that's true" to actually put the principle into practice. I've never been consistent with my daily prayers and scripture study. With this class, I've got that down and am now more confident that I can master other tasks, create healthy habits, and battle addiction forming behaviors. It's incredibly powerful. The curriculum coupled with the support from other moms all with different parenting circumstances has been great. 
Loralie –
I'm currently taking an LDS class called "Mothers Who Know" that has really helped strengthen my mind and spirit to win against the attacks of Satan. It's sort of a training program designed to instill the power and tools needed to override temptations and possible addictions for yourself and your families. We are learning to be powerful Mom Warriors! To fight for things that are important to us and our families.

We have several goals that we are all working on and keeping daily track of including: Prayer morning and night, daily meditation, Writing in a journal every day, and Reading scriptures every day. Now can I just say that I had underestimated the power of doing these things on a consistent basis. I mean, this is nothing new and I have done these things in the past, but maybe not all of them, all at the same time and every day.

One of the moms has a goal to reduce her time spent on facebook because she noticed it didn't make her feel good about herself and was a time sucker. So she deleted the facebook app on her phone and put the scriptures app there instead, in that same place. Now when she is somewhere with a few minutes to look at her phone, and the habit is to check facebook, she is reading the scriptures instead. This may seem like a small change but I think it has eternal benefits. There is power in the word of God and it can offer us a protection against the adversary.
Andrea
This class changed my life! I am so grateful for what I learned and the wonderful tools I received to grow and become a better version of myself. I learned how to recognize some of the things the adversary uses to make me addicted to "worldly" things and distract me from what is really important. I learned how to become a more disciplined person and how to better achieve my goals. Thanks to this class I am much better at constantly reading the scriptures, saying my prayers, writing in my journal and making good goals in my life that keep me happy and closer to God.
Brooke –
Eternal Warriors class has surprised me each week with powerful solutions to combating negative, discouraging thoughts and habits. I have not been this consistent in attempting to have more of the spirit in my life through prayer and pondering since my seminary days as a youth.  It's been a goal of mine for years to write in a journal, and this class has finally helped me achieve that, and enjoy it as well!  I believe anyone can benefit from this instruction.  It has given me such great visualization tools and models to help me fight Satan and darkness.
Kim –
I love the Eternal Warriors class. Each and every week I have learned something that has strengthened me both physically and spiritually. I feel that I am learning to be a more powerful person as I have applied the principles and action plans and set goals taught within this program. I look forward to what I am going to learn or be awakened to with each class session. Sheridan is a great teacher and facilitator of a much needed class!!
More Information
Eternal Warriors is an 8 week class that teaches you how to increase discernment, endurance and develop skills to help you win.
You will develop self discipline in the basics of daily scripture study and prayer as well as working on other goals that are important to you.  You are held accountable as you work towards improving yourself, through weekly check-ins and self-reflection as you work daily on your MAN/GRL PoWeR goals.
Success in Eternal Warriors Class will be measured by acquiring 28 consecutive "perfect MAN PoWeR/GiRL PoWeR days."
MAN and GRL goals:
Identify 3 target behaviors that YOU want to improve at. Such as:
Controlled use of video games
Controlled use of social media
Waking up at a certain time each day.
Eating limited sweets.
Daily FAMILY prayer.
Daily Meditation Practice
PWR Actions:
P = 5 min prayer 2x daily.
W= letter to God or future spouse.
R= 5 min reading scripture or recommended literature.
Do we need NEW armor?
"Almost 2000 years ago the Apostle Paul described the "armour of God" that helps us "stand against the wiles of the devil" (see Ephesians 6:11-20). This basic armor is still around and very much needed. But just as the tactics and weaponry used in physical warfare have changed over the centuries, so the adversary has adjusted his spiritual warfare against us. And so to win the war, we must adapt our understanding of the basic defensive equipment of a disciple and apply it to our changing realities." New Era September 2014 p. 26
This is a great article and says that YES.  Not only do we need the normal armor of God, but we need to have new and improved armor as well.  How do we do this?  We have to learn what satan's new tactics are and how to fight against them.
Eternal Warriors is the class to help you increase your armor and get new tools to help you fight!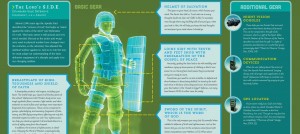 Register for Online Class Here
[s2Member-PayPal-Button level="3″ ccaps="" desc="Online Eternal Warrior Course through www.sheridanripley.com" ps="paypal" lc="" cc="USD" dg="0″ ns="1″ custom="sheridanripley.com" ta="0″ tp="0″ tt="D" ra="75.00″ rp="3″ rt="M" rr="0″ rrt="" rra="1″ image="default" output="button" /]