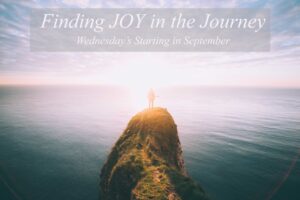 I am so excited for school to start.  Yes partly because the kids are headed back to school, but also because I get to start teaching Finding Joy in the Journey class.
This class is for those who want to have more JOY in their daily lives.
Do you sometimes get frustrated with your kids or spouse? Maybe you even get frustrated with yourself too.
In Finding Joy in the Journey you will learn how to stop frustration and other spins.  🙂
Maybe there are habits you really want to start creating, but don't seem to have the motivation to get them done.  We have weekly check in so you have accountability with the goals you set as well as support and clarity on how to be successful.
In Finding Joy in the Journey class you will learn how to accomplish what you really value!  🙂
Do you want to increase your discernment?
In Finding Joy in the Journey class you will develop a daily routine of scripture study, prayer and journalling that will help increase your discernment.
This class involves so much more, but be assured that you will learn tools and develop habits that will change your life and help you find Joy in the Journey through life.
Want to see if Joy in the Journey is a good fit for you?
Come to a free trial class on Wednesday September 5th at 9:15-11:15 AM.
Contact me to let me know you want to come try it out, or if you want more details.
If you are ready to find joy your journey, you can sign up now
When:  9:15-11:15 AM/ Wednesdays for 8 weeks.
Where:  Rancho Santa Margarita, CA
Cost:  $80 (There are scholarships available, if you really want to take the course and money is an issue, please let me know and we can figure out something that works for you!)
Here is a sample class if you want to learn more.

Online Class Option
Also if you can't come to the live class, but want to learn these tools, please check out my online class.