I am teaching Enjoy Life with Energy Work in Temecula, September 8-9.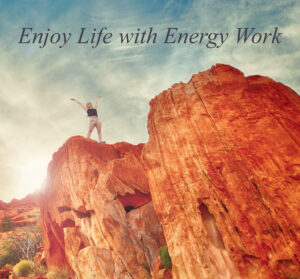 This is a simple yet powerful modality to help you learn how to do energy work for yourself, your family and others.
One of my gifts is simplifying things.  I have found over my years of doing energy work on people, 80% of the time I use only a handful of things over and over again.  So I took a modality I had created in 2013 and simplified that and added a few additional things I have learned since then.
I have it set up so that the main modality fits on 2 sheets of paper.  There is also a workbook to refer to with more details.
Is this the right class for you?
If you are a newbie with no experience wanting to learn more about energy work, this is great for you.  I start with the basics and will teach clear and concise steps to take.  You will leave with information and skills, ready to go home and practice what you have learned.  With practice you will quickly become confident with your new skills.
If you have some experience with energy work, but want to increase your skills and tool belt, this is the perfect class for you.  You will learn quickly and can easily apply what you learn.  You will definitely learn a lot of new tools to use to help you and your family.
If you have lots of experience doing energy work I think you will still enjoy and get a lot from this class.  You will learn a few new tools.  You will love the simplicity of the charts and will find that it is a compilation of the most powerful things you need to know.
Temecula Class
September 8-9th.
Use Coupon Code 50DEPOSIT to pay $50 deposit
Upcoming Classes
I am planning a class for Salt Lake City, UT in the Fall 2107. Dates being solidified.
Sign up for my newsletter or e-mail me directly if you want to get the updates on classes.
Your Area!
Do you want to host a class?  Contact me to get more information and a date scheduled.
Online Classes
Enjoy Life with Energy Work is also up and running Online!

Those who take the live class will get access to the online classes.  Those who take the online class will get a discount for the live classes.
Click here to visit the online classroom.