I had an amazing realization this week.  Every year I set a goal, or have a desire to cook more for my family.  Those who know me and/or have taken any classes from me, know that cooking is my Achilles heel.  I am not sure why, but I have struggled with it for as long as I can remember.  But for at least 20 years it has been a struggle.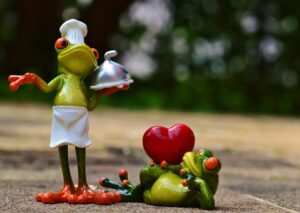 As we sat down to do our family meeting where we review last years goals and create this years goals, I had the sad realization I once again had made no progress in this area.  Why I wondered, why was THIS so hard for me?
Later I was praying about this cool class I wanted to sign up for.  I was really excited about it, the only thing is it is 6 hours a week for 10 weeks.  This class is on something I am already good at, I just wanted to increase my skills and I know I will enjoy learning about the topic.
As I was praying about it, God impressed upon my mind that if I spent 6 hours a week learning and practicing cooking for 10 weeks, by the end I would feel confident cooking and even enjoy it.
I have to put effort into it to create a change.
I also have to be educated to help create this change.
Of course I knew this on a logical level.  However since I haven't enjoyed cooking, I haven't wanted to invest the time into it.  I hadn't even ever thought about taking a cooking classes.  But with this new insight I went online and was led to 2 cooking classes that would bless me.  Now I just need to choose one and move forward with it.  Setting a goal to work on my cooking skills 4-5 days a week.
So I am putting it out there to the world!
I commit to put the time, money and effort needed to learn and practice this skill of cooking.  
THIS is the year I will learn to cook and even better, learn to enjoy cooking.