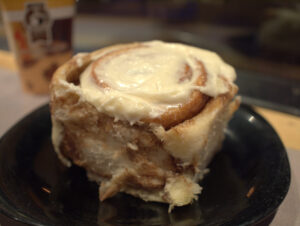 We all are suckers for a delicious cinnamon roll.  In some ways they bring us joy.
But it finding joy in the journey is more tempting, because it lasts longer and can make everything better!
We had a lot of fun at the sample class yesterday morning.  I am so glad I recorded it, there were a few people who wanted to come and couldn't.  (Recording below)
I am so excited because I have gotten so much interest in the Finding Joy in the Journey class, that I will be offering it 2 different mornings this fall.
Which is better for you, Wednesday or Friday?
Classes start the week of September 21st.
So the 21st for Wednesday people and the 23rd for Friday.  9:15-11:15 AM
Not sure what it is all about?  Curious if it is a good fit for you?  Watch the sample class to see.  🙂

Sign up for Live Class Here
I need you to sign up ASAP so I can order supplies for you.


If you prefer to sign up by calling or texting me, that is fine too.  Just let me know which day is better for you.
Class will be available online too!
For those who can't come in person, never fear, you can sign up too.  Here is the link where you can take Finding Joy in the Journey online.