If you signed up for the email series, but don't want to wait to get each email…
here are all the lessons together on one page!
Enjoy!
Welcome to the Ask the Angels Mini Class
I am so excited you signed up to participate in this 5-day experience. (condensed onto one page, for those of you who couldn't wait)
My hope is that by the end of this class you will feel comfortable asking the angels for help and this will provide you additional support in all areas of your life.
Come join me on our MPoWeR Facebook group to ask questions and share insights!
---
Ask the Angels – Lesson 1
The first place to go about to learn about angels is the scriptures. I also like to delve into talks and books about angels.
In todays class, I share some scriptures and some of my favorite quotes.
•Luke 1:26-38
•Luke 2:8-20
•Matthew 1:18-25
•Matthew 2:13
•Matthew 2:19-21
•Luke 22:43
•Psalms 103:19-21
•Luke 2:13–14, Luke 2:15; Psalm 148:2, 1 Samuel 1:3; Psalm 24:10; Isaiah 22:14; Jeremiah 2:19; Amos 4:13; Haggai 2:9; Zechariah 8:6; and Malachi 2:16
•Luke 4:10
•"I know that the promise of angels to bear us up is real." – Henry B. Eyring
•"Angels will coach you." – Boyd K. Packer
•"Though it may seem that you are alone, angels attend you." – Dieter F. Uchtdorf
•"Angels will be our associates and we will be participants in amazing miracles." – Julie B. Beck

Here is a link to the talk The Ministry of Angels – with the quote from Jeffery R Holland
Ponder and study and pray about some of these scriptures of quotes!
---
Learning to Ask the Angels – Lesson 2
Today I will explain how I learned to start asking the angels for help. I will also give you a few simple steps you can take to start learning this for yourself.
Today's Assignment
Pray and ask God to send you the best available ______ angel to help you with a specfic situation today.
---
Miracles in Mexico – asking for angels can save lives. – Lesson 3
I started to experiment with praying and asking for angels around early 2014.

I started with cooking angels, van buying angels, etc.
Then in November of 2014, I had an incredible experience where I was inspired to pray and ask for guardian angels to attend my son, who I thought was on a scout campout.
He actually had snuck down to Mexico and been kidnapped! Angels definitely helped guide him safely home.
Today's Assignment
Read The Mexico Miracle, a book I wrote about our experiences and how we healed. (totally optional, but totally worth it!)
---
Alert Notifications are Awesome! – Lesson 4
I recently learned about getting alert notifications from angels. I prayed and asked God if I could recieve notifications from angels. He said yes. 🙂
My intention was when I get a notification, I pause and ask –
Do I need to be an angel for someone else?
Do I need to ask for angels help for me or someone I love?
Do I need to be aware that angels have helped me and say thank you?
Learn what alert notifications I asked for and how it showed up in surprising ways!
Today's Challenge
Pray and ponder and ask if you can have an angel alert notification.
Ask for a specific type if you prefer.
---
Uneventful Miracles
How often are angels helping us out way more than we know???
Today you will learn about uneventful miracles and the power of asking for them.
Then I will review the things to remember as you move forward, asking angels for assistance.
Review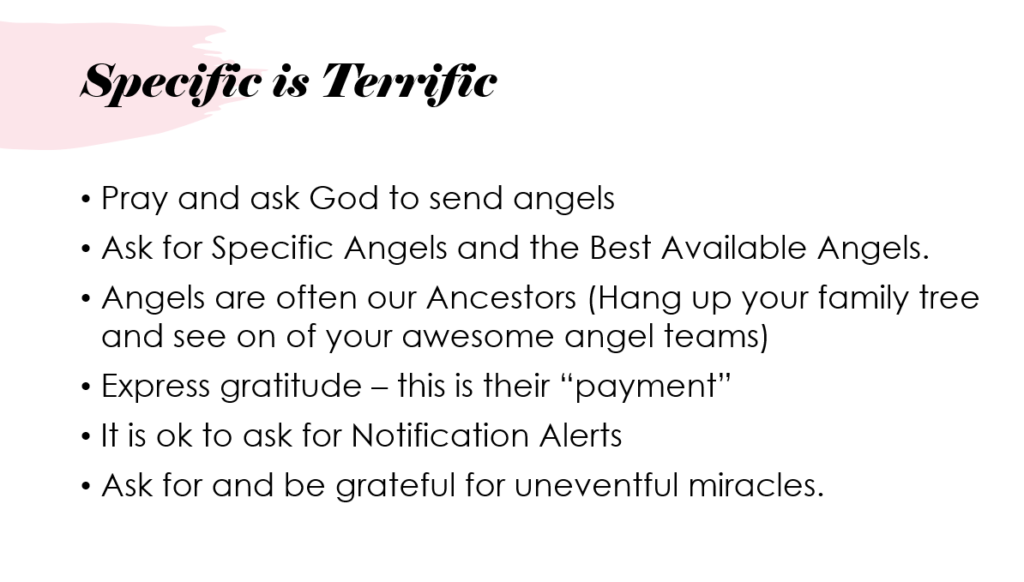 I would love to hear what experiences you have.
Join us on the MPoWeR Facebook Group or reach out to me directly.