My new book tiny steps to Meditation Success is out!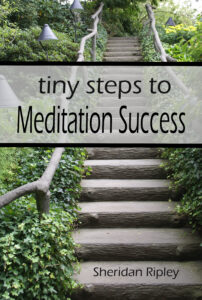 If you desire to meditate but struggle to do it, this book is for you!
Maybe you have never tried to meditated because it seemed to hard.  Or you have tried, and it was too challenging to keep it up.
In a simple how-to guide … I deliver 40 tiny steps … helping you:
Ease into meditation, by starting with 8 second meditations.
Systematically building on the day before, each short chapter will add a tiny new step or reinforce the previous days tool.
Along the way you will
learn the benefits of meditation.
understand why your mind never will be "empty" and that is OK!!
create an easy daily routine.
By the end of reading and applying tiny steps to Meditation Success, you'll be loving the benefits of meditating and have a daily meditation routine that is easy to continue implementing throughout your life.
Click here to get your copy!   Available as an e-book or soft cover.