A week ago today I thought that my son was on a Scout camp out. You can imagine my surprise when that morning, when I was taking time to pray for a friend, Devon came to mind and I felt a warning that there was evil surrounding him.
Evil at Scout Camp?
I know Scouts sometimes get a little crazy on camp outs, but Evil? I think not.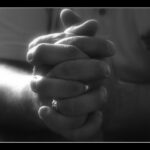 But I took it seriously and took the time to pray and ask God that the evil forces be removed. I felt some relief, but still really felt scared and worried. I knew there was something not quite right. I couldn't call him and check in, all I could do was pray.
So I asked God to send a protecting Angel to keep him safe. I also asked that he be given clarity and the ability to see the things he needed to see, so he could be safe.
I felt better. I was a bit perplexed by the whole thing. But I was filled with peace and was able to go on with my day, without much more thought. I did write a note in my notebook about it though. Just because it was pretty odd.
I only wish I had written the time that I prayed. I know it was in the morning, but I can't remember if it was early, like 8:30 (before we went to pick T3's friend up for a playdate) or after we were home closer to 10. It doesn't really matter, because either way I know that an Angel was sent to protect him.
Devon was not at camp, he had been kidnapped!
My guess it was around 10, only because that was about the time he was kidnapped in Mexico.
Yes, my 16 year old son was kidnapped in Mexico. He told us he was on a camp out with the Scouts, but he actually had driven down to Ensenada BY HIMSELF and gotten kidnapped, by a group of guys with knives. They took him to a shack, stripped him down to his underwear, tied him up and threatened him.
He was PROTECTED. There were so many miracles every step of his experience and I will post them in a separate post. But needless to say, there was an Angel watching over him.
Ask for Angels!
Later in the week, once he was home safe, I went to the Temple. I prayed and thanked God for sending that Angel and protecting him. I had prayed that gratitude many times during the week. But there in the Temple, I felt God say,
"You asked me to send an Angel, so I did."
Would he have had an angel if I hadn't felt the spirit warning me of the danger he was in?
Would he have had an angel if I hadn't taken the time to pray and ask for one?
I don't know.
All I do know is I DID pray, I DID ask and God answered my prayer, in so many ways.
Ministry of Angels
Today I read Elder Holland's Conference Address from 2008 – The Ministry of Angels and the ending jumped out at me and caused me to cry once again this week, tears of gratitude.
My beloved brothers and sisters, I testify of angels, both the heavenly and the mortal kind. In doing so I am testifying that God never leaves us alone, never leaves us unaided in the challenges that we face. "[N]or will he, so long as time shall last, or the earth shall stand, or there shall be one man [or woman or child] upon the face thereof to be saved." On occasions, global or personal, we may feel we are distanced from God, shut out from heaven, lost, alone in dark and dreary places. Often enough that distress can be of our own making, but even then the Father of us all is watching and assisting. And always there are those angels who come and go all around us, seen and unseen, known and unknown, mortal and immortal.

May we all believe more readily in, and have more gratitude for, the Lord's promise as contained in one of President Monson's favorite scriptures: "I will go before your face. I will be on your right hand and on your left, … my Spirit shall be in your [heart], and mine angels round about you, to bear you up." In the process of praying for those angels to attend us, may we all try to be a little more angelic ourselves—with a kind word, a strong arm, a declaration of faith and "the covenant wherewith [we] have covenanted."
Angels Heavenly and Mortal
Devon was attended by both heavenly and mortal angels last Tuesday. For this I will be forever grateful.
Let us remember the Power we have as parents, to call upon the Powers of Heaven to protect and guide our children.
Praise God!!!