11/11 will always hold a special place in our family.  A day of Miracles, so many, many miracles.
2 years ago at this time, I was so confused,
Why was Devon in Mexico when I thought he was on a camp out in Joshua Tree….
How were we going to keep him safe if Rob couldn't get down to Ensenada before the Tourism place closed…
What happened to his feet? Where did his shoes go?
I am so glad I had no idea what had happened until he was safely home.  By many miracles, including angels I had prayed for that morning, and earthly angels, including Rob, Devon did make it safely home by the next night.
Upon Rob's arrival home, he took me out to dinner and filled me in on the details he had learned from Devon.  The main thing was he had been kidnapped and had escaped.  Many, many miracles indeed.
So today, 2 years later, we woke up Devon with exclamations of Happy Mexico Miracle day.  We are going to dinner and a movie as a family tonight to celebrate.
He was hoping to have Rob take him to Ensenada next week to see the start of the Baja 1000, but Rob has a work trip and can't, but says maybe next year he can make it work.  I made Devon PROMISE he will NOT GO to Mexico next week and I told him, I will probably make him stay home and hang with me each day just to be sure.  😉
He is an adventurer at heart and I just pray that his adventures are much smarter and safer than the Mexico one.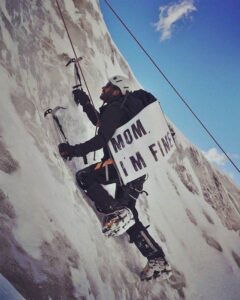 I think he is required to do as this young man does and send me pictures such as these along the way.
Except I could see Devon sending me a picture like this, while he is tied up in a shack… because I think on one level he probably thought he was fine.