My friend Laura invited me to her house the other night.  Her husband has been working 70-80 hour weeks and she needed a little extra love and support.  I hadn't visited with her in awhile, so I was excited to go.
Prayer is the perfect way to harness Heavenly Help!
She warned me that it was very difficult to park in her apartment complex. I reassured her I would pray for a spot.
She chuckled and shook her head and just insisted it would be nearly impossible to find a parking spot.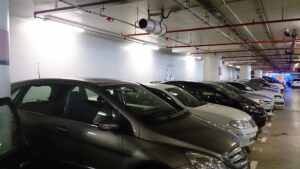 I was just as insistent that God would provide me one.
I was delayed in leaving for her apartment by my children. It seemed like 2 or 3 things popped up delaying me. I figured it was just part of the plan of God providing a parking spot for me.
When I finally left I prayed and asked that a parking spot be provided for me.
I went into her complex and started the loop. There were NO spots. I could also see how few visitor spots there were and I realized she was right, it was very difficult to park there. I was ending the loop and was at the point where I could leave and go park on the busy street outside the complex.
I paused and offered another prayer,
"Heavenly Father, I am here on your errand. I know that Laura needs me tonight and I want to be there for her. My desire for a parking spot is righteous, and I know you can provide me one. Thank you for doing so."
I went on to do another loop.
God provided the impossible spot!
First I saw a man walking towards some cars, but he went on to an apartment.
Then I saw 2 women walking out of an apartment and towards the uncovered parking spots. I slowed down and realized they were Sister Missionaries from my church and they were leaving. I waved and then paused as they backed up.
I then parked in the spot directly across from my friends apartment.
The "impossible parking spot" that God provided for me.
I was humbled and grateful. I saw how God's hand kept me home a bit longer to interact with my children, allowing the Sister Missionaries to finish their appointment. I saw how God gave me time to make a loop and see just how improbable it was and then after offering another prayer He gave me that very simple but powerful answer.
I shared the story with her upon my arrival at her doorstep and then my family when I got home and now you.
I share it with joy, faith and gratitude.
Pray with faith, God will hear and answer you!